THE STRANGER BESIDE ME
A gripping twisty thriller which will leave you asking yourself: who can you trust?
A new dark, twisty psychological suspense by bestselling author Caroline England, author of Betray Her and My Husband's Lies.

Katy Henry is lost and lonely. A single mother, plagued by fatigue and anxiety, she rarely has time for friends. But when she encounters Sibeal Matthews, all this changes. Sibeal is everything that Katy is not: assured, headstrong and charming.
Katy soon finds herself pulled out of her isolation into a fierce friendship. But Sibeal is not all that she seems. Tragedy haunts her, and for all her feistiness, she is startlingly dependent on her brother, Gabriel. And when her life begins to spectacularly unravel, Katy is swept up in the storm.
As Katy fights to protect herself and her son, it's not just Sibeal who threatens to endanger them – Katy's own past starts to rupture. Who can Katy trust? Can she even trust herself?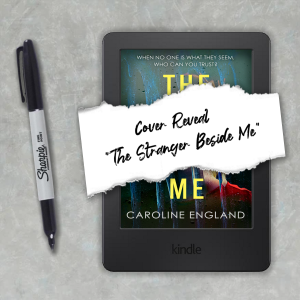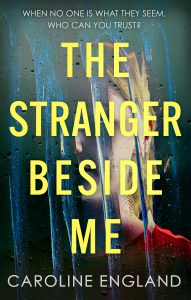 THE SINNER
'A riveting tale full of intrigue. I was fascinated by the characters and the setting. I couldn't put it down. Caroline England at her best and given the standard of her work that is really saying something' Amanda Robson


EVERY SAINT HAS A PAST
To the unsuspecting eye Dee Stephens has a perfect life as the vicar's wife: a devoted marriage to her charismatic husband Reverend Vincent, an adoring congregation and a beautiful daughter.
EVERY SINNER HAS A FUTURE
But beneath the surface, Dee is suffocating. Vincent is in control, and he knows her every sin. Desperate, Dee escapes into a heady affair with Cal, an old schoolmate.
EVERY CONFESSION HAS A PRICE
But is Cal the saviour she thinks he is? What dark secrets does he harbour? And to what lengths will Vincent go to when he uncovers the truth?
From the Top Ten ebook bestselling author, Caroline England's newest thriller will have you hooked from the first page to the last jaw-dropping twist.
'Absolutely amazing. Full of twists and turns I didn't see coming and a true study in character perception. A definite 5 stars from me' Angela Marsons
'Gloriously rich and dizzyingly twisty domestic noir that delves into the emotional chasm between public perception & personal reality. Engaging, gripping & actually very beautiful' Helen Fields
'Addictive and gripping, the twists and turns of The Sinner had me hooked from the first page to the final shocking denouement' Lisa Hall
'A guilt-riddled tale of family dysfunction and simmering resentment, with fatal consequences. . .' Heleen Kist
'Secrets upon secrets are gradually revealed in this intriguing tale. The Sinner is chock full of mystery, with a spicy side helping of romance into the bargain. A great read!' C.J. Cooper
'An incredibly twisty thriller, with lots of secrets, lies and menace. Highly recommended' Karen King
'I loved this book – Caroline's such a wonderful writer. The characters are so well crafted and THE SINNER builds to a satisfyingly twisty end. Highly recommended.' Elisabeth Carpenter
'Suspenseful, twisty and packed with dark secrets and lies… The perfect domestic noir' Alice Hunter
'A well-written, perfectly plotted psychological thriller with a steady build-up of tension all the way through until the fantastic ending! Clever and compelling! Loved it!' Diane Jeffrey
'England's writing is intelligent and this domestic noir is one of the best I've read in a long time. A sure-fire summer hit' Louise Beech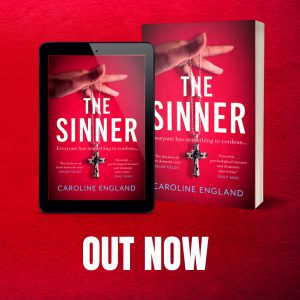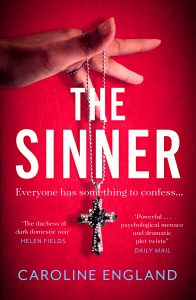 TRUTH GAMES
Family is everything to Ellie Wilson.
She tries hard to be the perfect mother, the perfect partner, the perfect daughter – but she can't always seem to get it right.
When an old friend from university re-enters their lives, dark memories from Ellie's past begin to resurface. Memories that have been buried for a long time.
As Ellie starts to unravel some shocking and sinister realities, she realises that she must choose between keeping the family she loves – and facing the truth.
From the Top Ten ebook bestselling author, this twisty psychological thriller will have you hooked from the first page to the last jaw-dropping twist.
BETRAY HER

Betray Her
Best friends forever.
That's the pact you made.
You'd do anything for her.
And you have.
But she's always had everything.
If you could take it for yourself . . . would you?
Praise for Betray Her:
I instantly became lost in the gripping story . . . Betray Her has everything that you'd expect from a psychological thriller and much more; a whirlwind of jealousy, illicit relationships, secrets and lies that will sweep you up and carry you along until the end. (Petrina Banfield)
Drew me in from the first page, twisted and turned, unravelling deliciously to an unexpected conclusion. A true page turner with characters that get under your skin and stay there long after you've read the last words (Faith Bleasdale)
THE SHADOWS OF RUTHERFORD HOUSE

Darkness lies at the heart of this family…
'Layers of secrets are gradually peeled back in this brilliantly absorbing tale.' Marion Todd, author of Old Bones Lie
In 1959 Milly starts her new life as a housemaid at Rutherford House, working for the aristocratic Rutherford-Percy clan. Entranced by her new mistress, Vivienne, she becomes deeply embroiled in the household and the keeper of dark secrets the family conceals beneath the mansion's grand exterior.  
In the present day Christie is working as a psychiatric nurse when she meets troubled patient Lillian Percy,
Vivienne's granddaughter and heiress to Rutherford House. They soon bond over the loss of their mothers – Lillian's died when she was a child; Christie's mysteriously disappeared over twenty years ago – and Christie finds herself increasingly fascinated by Lillian's family and their imposing ancestral home.
As Christie learns more about the Rutherford-Percys, she finds a shocking clue that could help her uncover what happened to her own mother. Desperate for answers, Christie puts her job, her family and even her very life on the line. But how much of the truth does she really want to know?
THE HOUSE OF HIDDEN SECRETS

The imposing gates of Ramsay Hall yawned open. As Serena and 4-year-old Lana walked up the long driveway, little did they know the dark secrets that lay within.
When Serena Green accepted the role of housekeeper for wealthy widower Hayden Ramsay, she never imagined her new home would be Ramsay Hall, an ancient, sprawling mansion in Northern England.
Serena quickly becomes an integral part of the household, making friends with Hayden's younger son Hugh, despite Jack, his older brother's, coldness towards her and Lana.
But the hall's beautiful exterior hides many ugly secrets. Though Serena and Jack begin to grow closer, she's
confused by his behaviour around Lana. What is he guilty of? And is there more to their mother's death than the Ramsay men will admit, even to themselves?
As the harrowing past of Ramsay Hall unravels, Serena fresh start becomes a fresh horror. She fears for her and Lana's safety, but what are the bleak secrets in Serena's own past?
This house is built on a lifetime of lies… and the truth might just bring the walls crashing down.
THE HOUSE ON THE WATER'S EDGE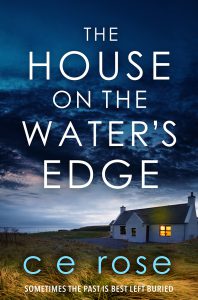 Sometimes the past is best left buried
Since the birth of baby Joe five weeks ago, Ali Baker has been struggling to cope. Starved of sleep and haunted by painful memories from the past, she's a million miles away from the polished, professional barrister she has worked so hard to become.
Then her mother tragically and unexpectedly dies, leaving Ali an orphan. Haunted by her loss, Ali can't forget her mother's last words to her: There is something I really need to tell you…
Heading back to the Norfolk Broads to sort her mother's things, Ali is plunged into memories of her family's picture-perfect summers on the river.
But as she starts to uncover secrets hidden within the isolated house, Ali is drawn into a dark web that threatens to destroy everything she believed about her childhood – and her very sanity.
Ali may finally discover her mother's secrets… but at what cost?
THE ATTIC AT WILTON PLACE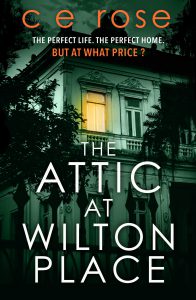 The perfect life. The perfect home. But at what price?
Introspective Ruth Parker is desperate for love and attention. Overlooked as a child by her cold and critical mother, her pain manifests in loneliness and a crippling lack of self-esteem. When glamorous actress 'Aunt' Vanessa, her mother's childhood friend, shows an interest in her, Ruth basks in the blinding light of her attention.
Once Ruth escapes to university in London, Aunt Vanessa invites her to Wilton Place, her stunning Belgravia residence. As she blossoms under Vanessa's guidance, Ruth finds herself torn between student life and the hypnotic, luxurious confines of Wilton Place. Belgravia wins out, but when Ruth explores the gloomy attic of her new home and finds a hidden, locked door, she discovers that Vanessa is hiding the darkest of secrets from her childhood, secrets that threaten everything Ruth knew about her own mother.
How far will Ruth go to find the truth – and how much does she really want to know?
A twisty, Gothic-inspired chiller that fans of Kate Morton, Louise Douglas and Kathleen McGurl will love.
My Husband's Lies
'I was gripped immediately – perfect for fans of Into the Water by Paula Hawkins' KATERINA DIAMOND, author of THE TEACHER
Do you really know your friends?
On the afternoon of Nick and Lisa's wedding, their close friend is found poised on a hotel window ledge, ready to jump.
As the shock hits their friendship group, they soon realise that none of them are being as honest with themselves – or with each other – as they think.
And there are secrets lurking that could destroy everything.
Tense, disturbing and clever, My Husband's Lies is a breath-taking read, perfect for fans of Lucy Clarke and Erin Kelly.
Order 'My Husband's Lies' now from Amazon
Buy now

Beneath the Skin
'I was gripped immediately' KATERINA DIAMOND, author of THE TEACHER
'I didn't want this book to end.' ELISABETH CARPENTER, author of 99 RED BALLOONS
Three women. Three secrets.
Antonia is beautiful and happily married. Her life is perfect. So why does she hurt herself when nobody's watching?
Sophie is witty, smart and married to the best-looking man in town. She likes a drink, but who doesn't?
Olivia is pretending to be a happy wife and mother. But her secret could tear her family apart.
Their lies start small, they always do. But if they don't watch out, the consequences will be deadly.
'I loved Beneath the Skin. It's so beautifully written and kept me hooked right to the end. Caroline England knows her wonderful cast of characters inside out. I didn't want this book to end.' ELISABETH CARPENTER, AUTHOR OF 99 RED BALLOONS
'I loved this book. A clever, glamorous, observational, page turning read which pulled me in right from the start until the pivotal, and most satisfying end. Beneath the Skin transcends the ordinary crime genre, taking it to another level.' AMANDA ROBSON, BESTSELLING AUTHOR OF OBSESSION
'Beneath the Skin is a startling debut. It slowly put me under its spell, until I was absolutely beneath its skin. With characters that pulsate off the page, complex relationships, and dark mysteries, this novel follows the lives of four couples. Their dramas are revealed slowly, patiently, and beautifully, until the breath-taking climax. I can't recommend this enough.' LOUISE BEECH, AUTHOR OF HOW TO BE BRAVE
'Four couples with interlocking histories; eight individuals, all with secrets that are ready to explode. Set in the lush heartland of the Cheshire countryside, this is a tautly elegant psychological thriller, razor-sharp and utterly believable. I loved it.' SARAH JASMON, AUTHOR OF THE SUMMER OF SECRETS
Order 'Beneath the Skin' now from Amazon
Buy now
Watching Horsepats Feed the Roses
A dozen cameos of quirks and cruelty that traverse the dark side of human nature. From the unexpected to the surreal, these diverse bite-sized stories are inhabited by characters that are lovelorn, nostalgic, tragic, the keepers of secrets and much more…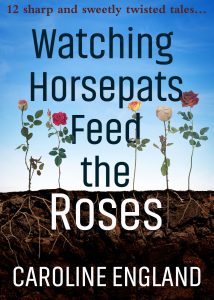 ---
Order 'Watching Horsepats Feed the Roses' now from Amazon
Buy now
Hanged By The Neck
Another dozen sharp and sweetly twisted tales from the dark side.
From betrayal to a mother's cruelty and a curse; from a mercy killing to the seasons of a tragic life and a book club murder; from stolen identity to a resident ghost and death by cheerful daffodils.
These sinister nuggets of noir will have you thinking long after the story ends…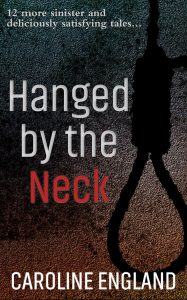 ---
Order 'Hanged By The Neck' now from Amazon
Buy now